Boros Bunker #3
A look inside the belly of Berlin's most known World War II Bunker.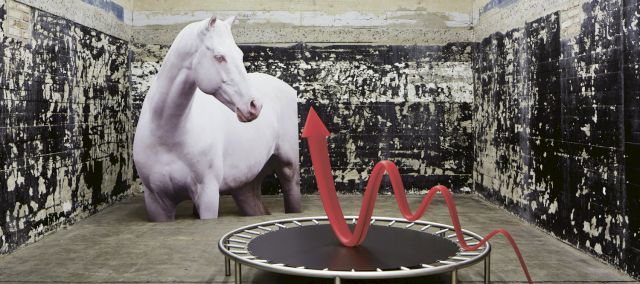 Installation von Katja Novitskova. Quelle: Noshe, Sammlung Boros, Berlin
Once a former air-raid bunker, an exotic fruit warehouse, and a techno club, this looming, grey-mass of a building in Berlin's Mitte district has been home to the private collection, and private residence, of Christian and Karen Boros since 2007.
The Boros Collection is the joint effort of ad agency founder and publisher, Christian Boros and his wife Karen, who met when Christian bought a Tobias Rehberger sculpture in the gallery that Karen was working for at that time. Since then, the two of them have gone on to build a collection together that contains work by Elmgreen & Dragset, Alicja Kwade, Michael Sailstorfer, Klara Liden, and Ai Weiwei.
One of the key aspects that makes the collection so dynamic and unique is the fact that the husband and wife do not always see eye-to-eye with each others taste in art, with Christian saying in the 2013 interview with Silke Hohmann: "Why should I block something just because I don't ­really get it? I'm not drawn to Thea Djordjadze's work, for ­instance, but follow Thomas Zipp avidly, whose work we also don't agree on." It is this adaptability that encourages the collector-couple to keep on self-educating about contemporary art, and forces them to continually move forward with their collection and the artists that feature within.
Opened in 2007, the Boros Collection underwent four years of renovation to transform it from the disused space it was once to one of the city's most spectacular spaces for zeitgeisty art. Sprawling out over 3 000 square meters, it took the architect Jens Casper, known internationally for his construction of London's White Cube Bermondsey Street space, to convert the original 120 small rooms of the bunker into eighty large, art-hanging-appropriate, ones. But the art does not stop in the belly of the bunker, with Karen and Christian's private residence located on the roof of the building in a glass penthouse, they make sure to live with the artwork they collect as much as exhibiting it to the public.
Since its opening to the public, the collection has seen over 300 000 guests come through its doors, with the second exhibition "Boros Collection #2" 2012-2016, attracting over 200 000 alone.
Here, we present a glimpse into the Boros Collection's third exhibition "Bunker #3".