Kai Bender
Collectors who have a special bond with Berlin.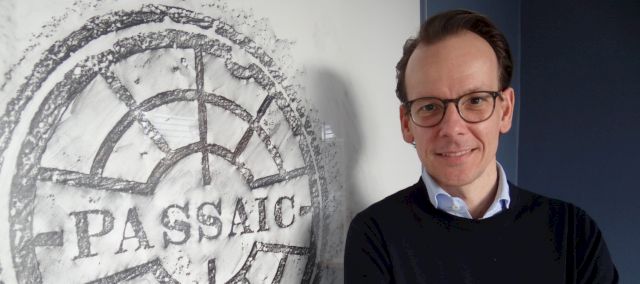 Photo of Kai Bender
To celebrate another year of Gallery Weekend Berlin we speak to a selection of collectors who have a special bond with Berlin.
Focusing on the collecting scene of the city and the personal relationship between city and collector, we find out what makes this capital not just a special place for its artists and visitors, but for the collectors too.
IC Collector Kai Bender tells us how he became involved with the collecting scene in Berlin and what he thinks a new generation of collectors will bring to the city. To celebrate another year of Gallery Weekend Berlin we speak to a selection of collectors who have a special bond with Berlin.
IC
Tell us about your connection to Berlin. How did it all begin?
KAI BENDER
When my wife Anna and I met back in 2005, she was already living in Berlin. I just moved into her tiny 1.5 room apartment in Mitte, and we had a great time. Shortly after that, I realized how lively and inspirational the art scene in Berlin was. I became involved and started purchasing first works. After we got married we moved to a slightly bigger place in Prenzlauer Berg, with more space for children and art. We started giving our portfolio and our way of selecting work some structure. Connections to our favourite galleries became tighter, we began visiting art fairs regularly, and all of a sudden we started being called a "collector couple" by some. This felt strange at first as there has never been an institutional ambition related to the works we have been acquiring. In the meantime, we became friends with more people sharing our passion, our perspectives on artists, artistic concepts, aesthetics and our patterns of collecting. And one day I read this article saying "Collecting starts when you run out of wall space". This was funny and convincing at the same time, so we learned to accept the "collector" label.
IC
What is the collecting scene like in Berlin?
KAI BENDER
Berlin is largely considered a place for producing art, less for collecting art. You read a lot about how you find fewer decades-old, prominent, highly institutionalized collections than in other areas of Germany like in Cologne, Hamburg or Munich. This may be true, but I think the vibrancy of a local collector scene does not just come from the established high-end collections. It much more depends on the overall number of people being actively involved with it. If you have 10 big collectors in your local community, that's great, but if you have an additional 500 beginning and mid-tier collectors, you end up with a much more lively and diverse crowd. And this is exactly what you find in Berlin.
Berlin is largely considered a place for producing art, less for collecting art.
KAI BENDER
IC
What impact has collecting contemporary art, in particular Painting, had on your life?
KAI BENDER
Contemporary art has added a new perspective to my life, which, from a professional standpoint, has a pretty formal and quantitative spin. Artistic concepts can undermine the patterns of what one could call an "adult life", like being able to verbalize all opinions and ambitions, trying to meet somebody else's expectations, focusing on your job at all times, etc. By the way, this doesn't imply that one should collect driven only by emotional reasons, actually the opposite is true: the more structure you apply to your collection, the better the effect on yourself and others. Painting in particular is important, because the medium stands the test of time; you can say "it ages well". That said, my definition of "painting" is not limited to oil on canvas, many young artists for example apply principles of painting in their digital work without ever touching a brush.
IC
Do you normally work directly with artists or do you go through Berlin galleries?
KAI BENDER
I normally buy through galleries like Eigen+Art, Sprüth Magers, Mehdi Chouakri and others. I know there is a lot of dispute around how digital platforms are disrupting the art business, how artists will sell via Instagram, and if traditional galleries are going to be there in 20 years from now. Of course, nobody can tell for sure. But my perception is that galleries today do not just provide the art works per se, but they also provide a social and personal context that many collectors appreciate a lot, including myself. Galleries will need to adapt the way they work with their artists and collectors to the requirements of the digital age, but I am optimistic that they will still be around for a while.
IC
How have you seen the Berlin art scene change and where do you think it's headed?
KAI BENDER
It is constantly changing, in many aspects. Some major galleries have moved or left over the last years, others have just opened. I think it is good for the local scene, because it rejuvenates. Secondly, there is the trend towards the new media and digitally inspired aesthetics, sometimes called "post-internet art". The big galleries try to evolve their portfolio in this direction while keeping their core portfolio alive and well. I look forward to seeing how this is going to work out. Thirdly, I expect the arrival of a new generation of collectors, enabled and inspired by the local start-up scene. The scene will continue to change, very much like the whole city has.
IC
Will you be attending Gallery Weekend Berlin this year? And if yes, do you have any tips for collectors as to where they should go?
KAI BENDER
Yes, I will definitely attend. I look very much forward to new works by Philippe Decrauzat at Mehdi Chouakri. Petra Cortright's solo exhibition at Societé is also going to be very interesting, as well as Mike Bouchet's exhibition at Peres Projects. Visitors should also go and see the group show at König Galerie as well as Gert & Uwe Tobias' work at Contemporary Fine Arts. Personally, I will start the weekend with the openings of Carsten Nicolai at Eigen + Art, and Thea Djordjaze at Sprüth Magers.