Wurlitzer Berlin-Pied-à-Terre Collection
Gudrun and Bernd Wurlitzer have created a space where artworks sit comfortably alongside signs of everyday life
On wall: Timo Klöppel, "DURCH DAS BERÜHREN ZERFÄLLT ES", 2014-07-18; "Hi Timo ich konnte es Dir am Telephon nicht sagen aber es ist besser wenn wir Schluss machen Nina", 2014-07-18; Anselm Reyle, "Untitled", 2006. © artitious.com; Wurlitzer Architekten GmbH
The Wurlitzer collection's owners, Gudrun and Bernd Wurlitzer, began collecting by simply being friends with artists, buying their works while also collaborating together, which explains how early works by artists such as Rosemarie Trockel found their way into their Mitte hideaway.
Like entering a truly beautiful, elegant apartment, the space is more of a cache of whatever happened to appeal to its owners than a definitive or overly curated list. The layout is clearly of a residential building, instead of a faceless white cube – a visitor walks through rooms functioning as entrance hall and kitchen, lounge and study, in turn, each impeccably dotted with artworks. The cosy Wurlitzer collection encourages a visitor to feel at ease: you can perch on a couch or at the kitchen table, while surrounded by works from young Berlin sculptors and installation artists, as well as big hitters from across the pond, such as painter George Condo. Works are placed carefully, but no surface is too humble – windowsills and coffee tables work just as well as plinths. Artworks sit comfortably alongside signs of everyday life.
With the sunlight beaming through the windows, it's hard not to see the uniting theme of the collection as shine and sparkle: mirrored fragments creating a glittering mosaic in the photographs of Timo Klöppel, or Jürgen Drescher's dully glowing golden speech bubble. Jeppe Hein's tongue-in-cheek comment ("This Artwork Is Currently On Loan") reflects the visitor's own image back, while lights seemingly twinkle in the night sky in Canadian artist Angela Bulloch's installation. She's one of several artists in the collection using electric light – Max Frisinger's are hidden behind layers of basket weaving, while Anna Fasshauer's standing lamps are a squiggly mess of copper.
All in all, the collection gives the impression of a beautifully tasteful residence, while the art inside brings an extra light and sparkle.
Josie Thaddeus-Johns is a writer and editor based in Berlin, covering art, fashion, film and more. She writes for Broadly, Dazed, Artslant and others, and is contributing editor at Sleek magazine.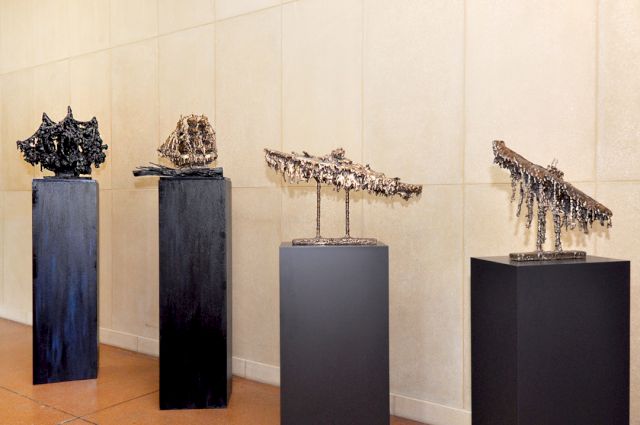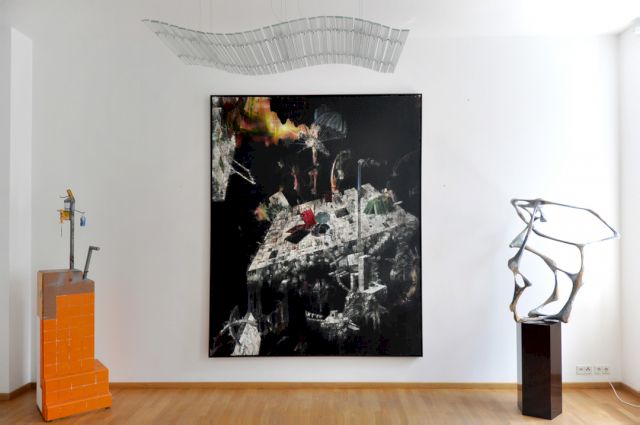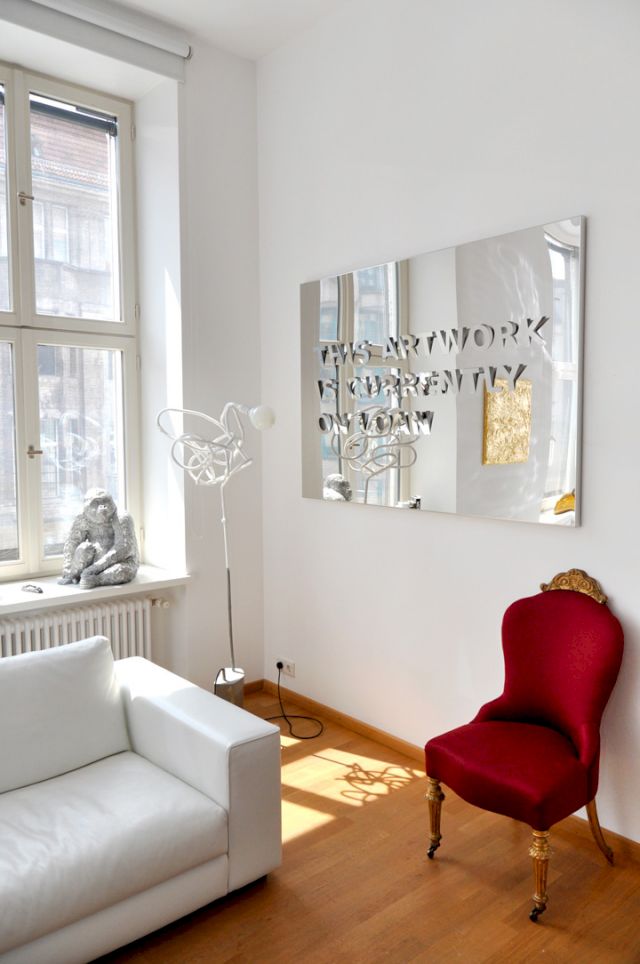 All images courtesy of Wurlitzer Berlin-Pied-à-Terre Collection.