Max & Corina Krawinkel
What might have initially begun as two collectors with two very different tastes has now resulted in one of Germany's most important collections of contemporary art by West German artists.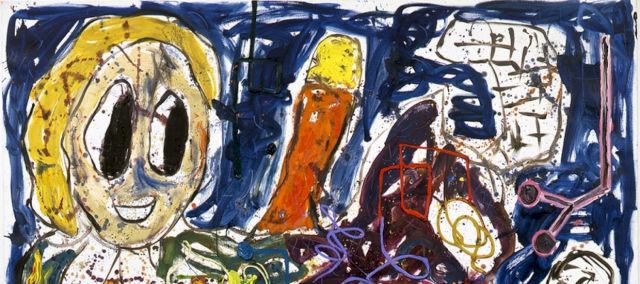 ANDRE BUTZER, Untitled, 2006
For Max and Corina Krawinkel collecting has always been a matter of taste; they might just not have always seen eye to eye on what that "good" taste is. Starting their collecting journey separately from one another proved to be a blessing in disguise, with Corina using her knowledge and expertise in the arts to intuitively pick out key pieces and Max's impulsivity to connect with an artwork, today they have together developed a collection that is as boisterous as it is controversial.
What is perhaps most compelling about the Krawinkel's is their commitment to live and engage with the artworks on a daily basis; as if contemplating a work by Jonathan Meese first thing when you wake-up goes hand-in-hand with your morning coffee.
Here, in collaboration with Art Cologne, we spoke with Max and Corina Krawinkel about how collecting together as influenced their lives, how they arrived at only collecting West German artists, and why it's ok for your taste to change.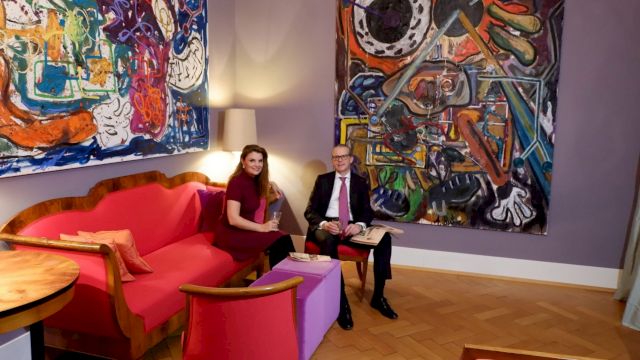 Can you tell us about what it was like growing up with art and what you've taken from this upbringing that you now apply to your own collection?
Max: At my parent's home I was surrounded by light installations and contemporary art and it was mandatory on a weekend to go to exhibitions, shows and host dinners with artists at home. Therefore when I went to university I needed a "cool down phase". After taking a break for a couple of years my interest in contemporary art was back to life and I could benefit from all the memories and knowledge that I had learned at home.
Corina: My love for art started in Paris at the age of thirteen when I was admiring the impressionist paintings that my mother loved. This art was easy to understand and lovely to look at, but being curious and eager to learn new, and sometimes inaccessible things, the artist group around Joseph Beuys, Blinky Palermo and Imi Knoebel fascinated me much more.
Your interest in collecting began before you knew one another, but how do you now collect together? Do you influence one another when it comes to taste and opinions?
We spend a lot of time reading and digesting texts about artists, visiting art shows and fairs and of course discussing new trends. Therefore it is not influencing each other; it is after a period of discussion and exchange of information coming to a mutual conclusion that this is the new and right artist to go for.
Your collection has a very specific focus on works from West German artists. What is it about these artists and artworks that you find so compelling?
First of all we have grown up with them in the same country and live in the same society. We've all had similar experiences in Germany after 1960 and therefore we can relate to their expressions on canvas. It is the fascination with the transportation of their emotions on the same topic we experienced in a total different way. Furthermore, the influence of American movies and media had a large impact on the Germans of our generation and it was the movement of Abstract Expressionism, Pop Art and minimalism that influenced the generation of artists we collect. It is due to these influences that the artists are so exciting for us.
Max, you began with collecting international contemporary art, but have since shifted your focus. What was the cause of this shift and do you still enjoy the works that you purchased at the start of your collecting journey?
Before meeting Corina I was much more of an emotional and impulsive buyer of art. Through Corina and her profound knowledge of art history, I learned to see artists and their work within the context of art history. Works that were purchased before our collecting journey together I now find to be boring and one-dimensional. These days I now understand abstract art and continue to be intrigued by it, but at the end of the day I still buy more emotionally than my wife.
Corina, your starting point into collecting began with a much different approach, with your first piece being one by Joseph Beuys. What was it about this work that made it become the first piece in your collection? Has your taste changed since this first purchase?
My interest within collecting is the history and the influence that German artists after 1945 have had on contemporary young painters. I like to compare and interpret their views on life and how they transport these views onto the canvas. Joseph Beuys fascinated me right from the beginning when I was first confronted with contemporary art, largely because he changed the German art scene after 1945. My taste hasn't changed; I was always inspired by radical artists.
For many collectors, forming relationships with the artists is integral to their collection and how they acquire works. Is this something that holds importance for you? If not, what do you consider to be a vital component in regards to developing the collection?
We know some of the artists we collect and with some of them we have a close friendship, but knowing them personally is not mandatory for us. Our focus is their work. The painting needs to "talk" to us, more so than the artists need to. We want to look at paintings on a long-term basis and continue to be thrilled by them.
ANDRE BUTZER, Pong, 2006
My taste hasn't changed; I was always inspired by radical artists.
CORINA KRAWINKEL
How do you live with the works? Are they something that you see and interact with everyday?
Max: Every morning after my workout, my first coffee accompanied by a tour through the house and looking at our works. Some of them give me the kick-start for the day and I keep them in mind for the rest of the day.
Corina: My interaction is more in my research and the buying process. Once we own it, I am then more focused on new acquisitions.
How has collecting art impacted each of your lives?
Max: My life is much more complex since I started collecting, because through art you see things with a different perspective. Collecting as a couple makes your life more diverse and you discuss things in depth and only have one destination in mind; how do we get this artwork into our collection.
Corina: It keeps us on the go that's for sure! We travel a lot internationally for art shows and also to many countries to see their culture and contemporary trends.
Currently your collection is not accessible to the public, but loaning artworks is something that is important to you both. Why is it imperative for you to share the artworks for public view?
We like to change people's view on contemporary art, so we all can share and discover new trends.
My life is much more complex since I started collecting.
MAX KRAWINKEL
The two of you are members of the Förderkreis Museum Ludwig, with Corina being Head of Kuratorium MAK (Museum für Angewandte Kunst) and a Board Member of Kunstverein Köln. Max, you are a Board Member of Freunde des Walraff Richartz Museum und Museum Ludwig and also a Board Member of Kunsthochschule für Medien, Köln. What do you believe your responsibility is as a collector when it comes to furthering education, both within the realm of contemporary art and outside of it?
It is imperative for us that our generation, and especially the generation after us, keeps close contact with contemporary art. We see trends that the newer generation lost interest in contemporary art and this needs to change. In the world of "alternative facts" you need to get the people into the museums so that they can see art first hand as well as the benefit of discussing art together.
By coincidence, the two of you purchased your first artworks at Art Cologne and both used to visit the fair as children with your parents. Does the sentimental attachment to Art Cologne play a role when acquiring works there?
It is not sentimental by going and purchasing art at Art Cologne. It is primarily the quality that convinces us to return to the Art Cologne.
Aside from Art Cologne, what other ways do you research artists? Do you have any guidance for emerging collectors?
We research artists by traveling to New York City and London, going there for shows and fairs. Some German painters are more valued abroad than in their home country and it is always interesting to learn the outside perspective on German artists. We also sometimes discover German artists there that we did not know about before.
Our guidance to young collectors is to focus on a theme they are interested in so that they can build a profound knowledge on their subject of interest. This allows them to collect with expertise.