Hot With Excess
With a dynamic and experimental season of live events, "Hot With Excess" explores the collision of contemporary art and opera.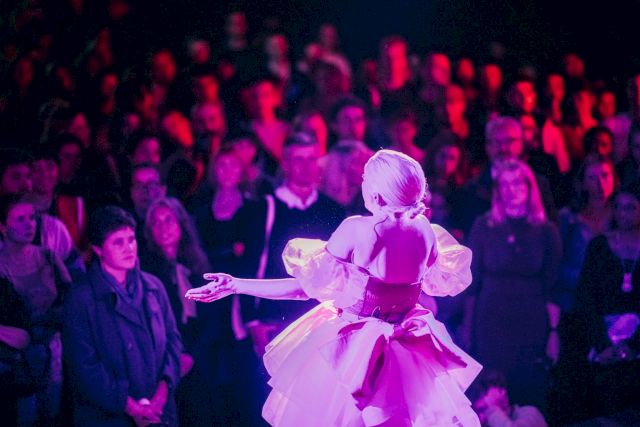 MARIJKE DE ROOVER, Live, Laugh, Limerence (performance documentation). Photo: Mike Massaro
Giant sweetcorn, pregnant ladies, beatboxing, rappers and naked dancing sculptures. "Hot with Excess: A Season of Contemporary Artists' Opera" launches at the Zabludowicz Collection on Thursday 12 March with a bravo composition of live events to bring opera into the gallery. A dedication of the collection is to foster new audiences – if you dabble in club nights, cabaret or theatre and are yet to approach opera or performance art, head along!
Performances, screenings and discussion will reveal how artists working today are commandeering this cultural tradition (opera) to propose new hybrid ways of working that resist easy definition. The first programme of its kind to focus on contemporary artists using opera in their practice in the UK, this will also be the first time the Zabludowicz Collection dedicates all the gallery spaces to a live project, also transforming one room into a social space with a bar.
"Hot with Excess: A Season of Contemporary Artists' Opera" launches with a newly commissioned opera by LA-based artist Trulee Hall and includes a 24-hr film work with live augmentations by Benjamin Orlow, a new site specific staging by Sam Belinfante, a fully realised operatic performance of Marijke de Roover's "Live, Laugh, Limerence", as well a screening from Alexandre Singh. It culminates in a restaging of "Black Rage", the UK-debut of Berlin-based American artist Richard Kennedy. A discursive element organised in partnership with Centre for Audio Visual Experimentation (CAVE) at Leeds University will offer space to reflect and consider the contemporary context for the programme. With eclectic backgrounds in music, composition, film, and visual arts, by way of Hollywood and Broadway, the participating artists' collaborative and eclectic approaches engage with the designation 'opera' in varied and forceful ways.
The embedding of emotionally intense stories in drama, music and the voice is fundamental to the established opera canon. Similarly, the season will explore how personal and political, intimate and global narratives are communicated through those entwined models. While often understood as bombastic and theatrical, it would be too easy to simply label opera as escapism, and this is equally true of the works. The programme invites one into multiple cathartic moments of unrequited love, fury at society's racial and hetero norms, the messiness of female sexuality, and states of confusion and even boredom, in the face of what it means to be human. The works run counter to social expectations of what is acceptable, they share an excess – of time, aesthetics, bad taste, emotion, memory. They demand our attention and push us to think further than our existing parameters.
Using the Zabludowicz Collection's scale and architecture, the performances and screenings are free from the formality of the opera house. The programme asks: by reframing the component parts of voice and song, music, libretto, staging and costumes, how far can opera be dissolved and reconfigured? Far from the traditional and assumed inaccessible art form, the programme reconsiders opera's narratives, structure, production and duration. Freed from its conventions, the artists embrace the idea of opera as the original 'impure' form; a parasitic mix of music, dance and theatre. The resulting works are multi-layered, collaborative, celebratory, intense and immersive. They tumble between definitions, while at the same time, being many things at once.
Arguably the paradoxical nature of opera – a relic that remains vital, a dead form that continues to thrive – makes it the ultimate art form for our conflicted and divisive world. "Hot with Excess: A Season of Contemporary Artists' Opera" offers more than an escape; it offers an audacious platform to confront our fears and desires, and explore a new way of describing who we are and might be.
The programme of events for "Hot with Excess: A Season of Contemporary Artists' Opera" will run until 27 March, 2020. Take a look following in this Collection Feature for a sneak peak.