Instituto Figueiredo Ferraz
João Carlos de Figueiredo Ferraz's collection features abstract painting and conceptual art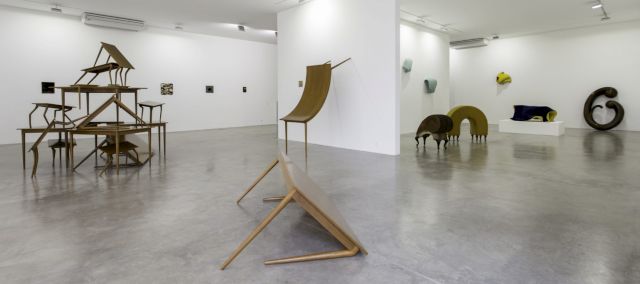 Installation view 2016 with works by Edgard de Souza. Photo: Maurício Froldi
Ribeirão Preto, located inland northwest of São Paulo, has been one of Brazil's largest agricultural centers since the nineteenth century.
Its economic success brought money for large villas and culture into the city, which in addition to numerous parks also boasts an important historical opera house. What it lacked, however, was the visual arts—a gap that has been filled by João Carlos de Figueiredo Ferraz. An exhibition of his collection of predominantly contemporary Brazilian art at the Museu de Arte Moderna de São Paulo (MAM) in 2001 prompted de Figueiredo Ferraz to establish a permanent home for it. For the collector it had to be in Ribeirão Preto and the only option was to build a new exhibition venue there. Located outside the city center in a residential neighborhood, the Instituto has been a cool oasis of tranquility since 2011, at least when one of the many school classes are not visiting and studying works by world-class artists such as Edgard de Souza, Tatiana Blass, and Ivens Machado.
Anne Reimers is a London-based art historian and journalist, reporting since 2006 on art auctions, fairs, and exhibitions in the British capital. She is also Senior Lecturer for Visual Culture and Fashion Theory at the University for the Creative Arts (UCA) in Rochester, England.