Centuries Of Art-Treasures At Colección Fortabat
Colección de Arte Amalia Lacroze de Fortabat in Buenos Aires contains everything from Pieter Bruegel to Andy Warhol.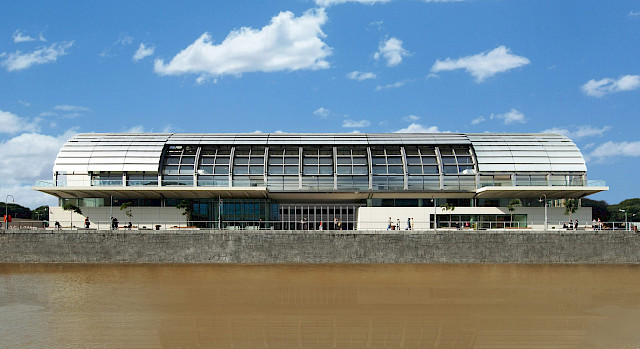 Colección de Arte Amalia Lacroze de Fortabat. Photo: Bernardo Galmarini/Alamy Stock Photo
Colección de Arte Amalia Lacroze de Fortabat found its public home in 2008 parallel to the harbour of the heavily restored and now very trendy area of Puerto Madero in Buenos Aires. The collection and its whopping, light-filled venue originated as an initiative of the late Amalia de Fortabat, who existed as Argentina's wealthiest woman.
As a businesswoman and philanthropist, Mrs. Fortabat's interest in art and culture led her over the years, to bring together a significant number of artworks from different periods by national and international positions. The Colección Fortabat therefore opened with the aim of sharing a selection of relevant artworks, and does so across four levels and 3000 square-meters of dedicated exhibition space within the multi-purpose building. Uruguay born New Yorker Rafael Viñoly was the architect behind the construction, which is now one of the primary cultural attractions in its part of the Argentine capital.
"A museum is a marvellous place. It is the home where the men treasure the most precious works of their creation. In museums live the spirit, the talent and the imagination of artists. To tour a museum is a unique fascinating experience. This is why, with the intention to extend to everyone the richness of our country´s art, I have decided to share my collection of Argentinean art. An exquisite collection that will combine with international artists from this and other times, that will be presented through periodic temporary exhibitions." – Amalia Lacroze de Fortabat, 2001
A historical diversity of cultural selections identify the Colección Fortabat, including sculptures of Egyptian reliefs and Greek objects, as well as works by the likes of Pieter Bruegel II to Andy Warhol – who portrayed Mrs. Fortabat Marilyn-style in 1980. Further international names include J. M. William Turner, Jan Brueghel I, Circle of Maarten van Heemskerck, Gustav Klimt, Auguste Rodin, Salvador Dalí, Marc Chagall, Tsuguharu Foujita and Roberto Matta Echaurren. There is further a big emphasis on Argentine art, where 2012 saw a new stage in the Collection, with rotating exhibitions of Argentinean great masters.
In their first Collection Feature on IC, presented following is an overview selection of the Colección Fortabat in Buenos Aires, as well as the most relevant collection pieces and the current temporary exhibition on display.