A from Animism, Atlas, Adrift[1]
A from Animism, Atlas, Adrift, Algorithmic, Apocryphal, Automatic, Ambiguous, Amnesia, Allegory, Above, Archive, Alien…
NATALIE BAXTER, This Libtard. © Hugard & Vanoverschelde photography
Presented in exhibition at The Loft have been Carlos Aires, Pierre Ardouvin, Annie Attridge, Apparatus 22, Miriam Backstrom, Natalie Baxter, Phillip Birch, Sander Breure & Witte Van Hulzen, Sophie Calle, Andrea Canepa, Danilo Correale, Daniela & Linda Dostalkova, Kasia Fudakowski, Bouchra Khalili, Anya Kielar, Eva Kotátková, Bertrand Lavier, Pierre-Pol Lecouturier, Taus Makhacheva, Mazaccio & Drowilal, Josephine Meckseper, Cildo Meireles, Yerbossyn Meldibekov, Christodoulos Panayiotou, Oscar Santillan, Cindy Sherman, Ken Sortais, Richard Tuttle, Danh Vo and Casja Von Zeipel.
Occurring now as a default reoccurring of questioning in my mind, are the roles, responsibilities and reasonings of collectors today. Servais Family Collection, programmed by an annual hang and a selected curator, for 2019 and titled "A from Animism, Atlas, Adrift", was curated by Dragos OLEA, who also did so in 2018 and 2017. Handing over the collection to an external curator therefore means to Alain Servais, that on an annual basis, his collection receives a rebirth, through the exploration of each exhibition-maker, just as the very art-making and confrontations of the positions who tantalise the collection in the first place. Every curator has the opportunity for research and the public forum surrounding the collection, as well as the collection expanding into new discourses. Just as the artworks of the Servais Family Collection are installed in the industrial-cool loft where Servais and his family used to live, perhaps not only the artworks, but the curators, also become part of the family. It certainly has that feeling when you have the pleasure of a visit.
Coming to a close on March 15, in this collection feature, we share documentation images of "A from Animism, Atlas, Adrift" at The Loft, and a teaser of the press release written by Dragos OLEA (get in touch for the full text):
"A from Animism, Atlas, Adrift" is an allegory of the many journeys one undertakes to orient and constantly reorient oneself within the past-present-future non-linear continuum and in multiple cultural, social, economical and political contexts making up reality(es) and places beyond.
One journey after another – being them real, virtual or via mediated accounts, dreamy or nightmarish, immersive or at a critical distance, nocturnal or diurnal -, the paths through the exhibition turn into ample transpositions exploring the contradictory nature of contemporary society.
It is not only about the journeys of the man, but of the objects too – some iconic, some trivial – and the narratives they are able to move around, to create unfamiliar distinctions and productive critique.
…
___________
[1] full title of the exhibition is "A from Animism, Atlas, Adrift, Algorithmic, Apocryphal, Automatic, Ambiguous, Amnesia, Allegory, Above, Archive, Alien, Archaic, Anarchic, Addictive, Archetype, Abundant, Another, All-Embracing, Anguish, Apocalyptic, Afar, Articulation, Accurately, Abolition, Abstraction, Afterlife, Autonomy, Analytics et al".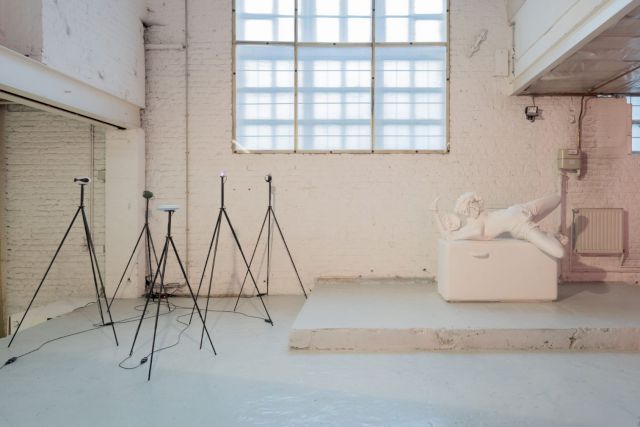 And you are invited to join in the effort (in ways not yet defined).
DRAGOS OLEA