ALLES NOTWENDIGE (Everthing Necessary)
We newly introduce Braunsfelder – the private initiative of a Cologne family, who in their current exhibition (which can be visited) present the urgency for art, especially in difficult times.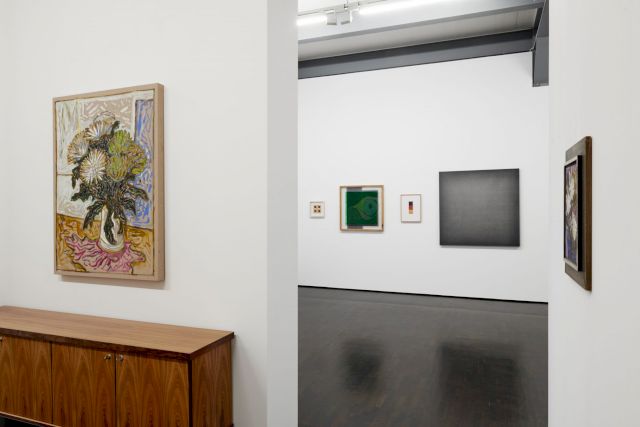 Exhibition view of ALLES NOTWENDIGE at Braunsfelder. Courtesy Braunsfelder. Photo: Mareike Tocha
Months into our global pandemic, it is certainly clear that quarantine will continue(…) and that the commencing of a new version of our previous lives will be a slow and steady happening. Reflection on a variety of levels and structures – personally, socially, politically, economically, etc., has no doubt led to an overarching questioning of exactly what IS necessary?!
The Braunsfelder Family Collection are a new addition to our platform and to present their activities for the first time on IC, we wanted to share their current exhibition, ALLES NOTWENDIGE (Everything Necessary). Artistic positions from the collection currently on view include Jo Baer, Billy Childish, Kye Christensen-Knowles, Graham Collins, Paul Czerlitzki, Jesse Darling, Ólafur Elíasson, Penny Goring, Edda Grossman, Sophie von Hellermann, Pierre Huyghe, Behrang Karimi, Jonas Maas, Misheck Masamvu, David Ostrowski, Elizabeth Peyton, Sophie Reinhold, Gerhard Richter, Thomas Scheibitz and Thomas Wachholz.
Braunsfelder exists in a former fittings factory in Cologne-Ehrenfeld and since 2017, has presented curated temporary exhibitions with German and international artists. The focus of the mostly contemporary works, is on painting and sculpture.
The private initiative is based on the collection of a Cologne family, the Braunsfelder Family Collection. Here, works by emerging artists meet positions with art historical references. In addition to the artworks, the 370 square meter loft is home to an extensive library of art books, exhibition catalogues and jazz literature- which continues to be run by the family's second generation. In contrast to the classic "white cube", this also gives the rooms an atmospheric privacy.
Works from the family collection, as well as cooperative projects including works external to the collection by international artists are exhibited alternately. The aim is to create both an inspiring, and equally personal place for encounters. The emphasised urgency is on the creativity portrayed in art and the exchanges that arise from it.
The title of the current exhibition ALLES NOTWENDIGE refers on one hand to the quotation of the Federal Chancellor on defusing the current pandemic crisis, and on the other hand, ALLES NOTWENDIGE stands for art as a necessary "elixir of life" for people, especially in difficult times.
As a debut presentation, this Online Exhibition shares installation images and single artworks at Braunsfelder. The current exhibition concludes on May 30, 2020 and can be visited by appointment.