Museum Brandhorst
Francesca Gavin and Benjamin Jaworskyj explore this dazzling space in Munich.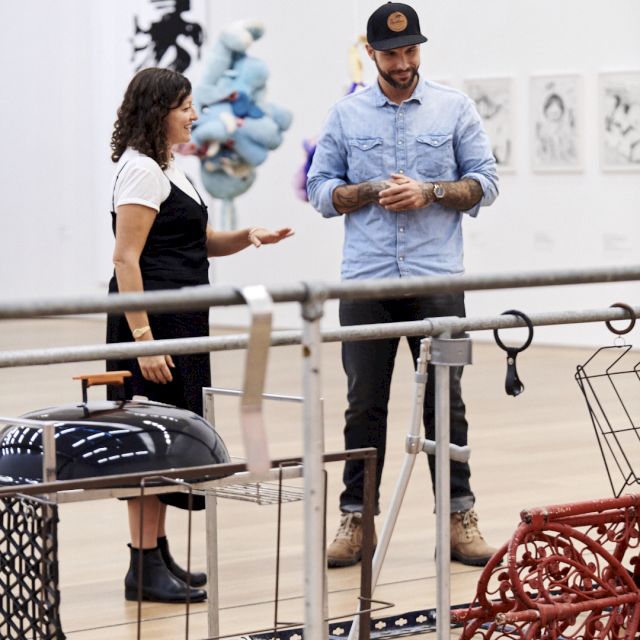 Francesca Gavin and Ben Jaworskyj at Museum Brandhorst, 2019
In our film series format, we see writer and curator Francesca Gavin team up with creative heads and art advocates from various fields. Together, they embark on a journey to a selection of some of the dynamic collections featured in the BMW Art Guide by Independent Collectors.
For the seventh installment, we follow a journey to the impressive building and shimmering façade of Munich's Museum Brandhorst, which perfectly fits to its vibrant setting in the middle of Maxvorstadt, the art quarter. By now the Brandhorst, designed by Sauerbruch Hutton, is one of Germany's most popular exhibition venues.
Alongside Gavin, travel photographer Benjamin Jaworskyj explores the Museum Brandhorst, which has its roots in the private collection of Anette and Udo Brandhorst. Museum Director Achim Hochdörfer introduces the collection, best known for positions like Gerhard Richter and Ed Ruscha, amongst Andy Warhol and Cy Twombly, who underpin the collection with large bodies of work. As part of the current exhibition programm, Forever Young celebrates ten years of the museum with a selection of works from the collection.
Join Francesca Gavin and Ben Jaworskyj on their Bavarian discovery as they walk through the Museum Brandhorst, featured in the current fifth edition of the BMW Art Guide by Independent Collectors.