JAHM – Justin Art House Museum
Given its spacious and unorthodox design, the JAHM looks more like a public exhibition venue than a private residence.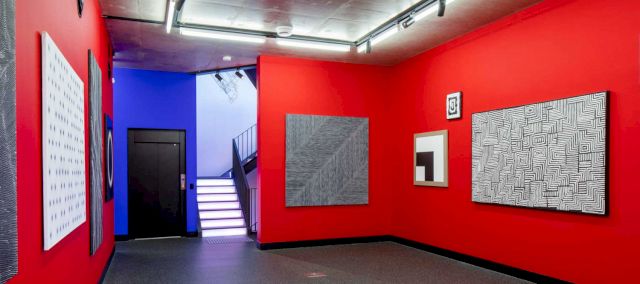 Justin Art House Exhibition Space. Courtesy Justin Art House Museum. Photo: James Morgan
Elisa Justin, who is an architect like her father, designed the Justin Art House Museum building featuring both exhibition and living areas for her parents Leah and Charles. Accordingly, the question of how an individual artwork relates to the space has a perhaps greater influence on what works are acquired than with other collectors. The couple, whose collection comprises around 250 pieces, prefers abstract works, such as by Penelope Davis, Justin Andrews, or Gina Jones, and artists who deal with the concept of "space." Digitally produced or modified works and video art are another focus at Justin Art House Museum. Hospitality is a top priority for the Justins: not only do they personally take visitors around the building, but they also invite them afterward to engage in informal conversation and discuss the works over drinks and snacks – on the roof terrace in good weather.
Anne Reimers is a London-based art historian and journalist, reporting since 2006 on art auctions, fairs, and exhibitions in the British capital. She is also a Senior Lecturer for Visual Culture and Fashion Theory at the University for the Creative Arts (UCA) in Rochester, England.