Lyon Housemuseum
A 40-minute tram ride from Melbourne takes you to this unique hybrid space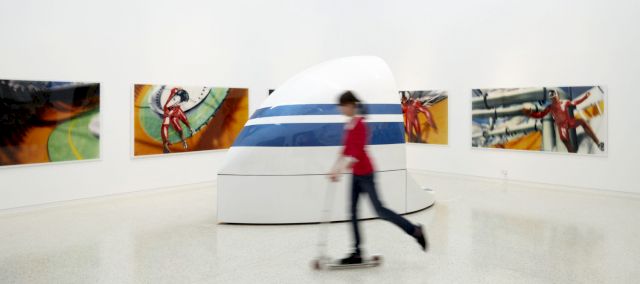 Installation view at Lyon Housemuseum. (Installation: Patricia Piccinini, Sheen, 1998) ); courtesy Lyon Housemuseum, Kew, Australia
The Lyon Housemuseum artfully blurs the lines between art and architecture, the public and the private, museum scaled gallery spaces and domestic bliss to create a unique hybrid. To find it, take a 40-minute tram ride from the city of Melbourne to the prestigious leafy suburb of Kew, where Victorian period mansions and Melbourne's best private schools proliferate.
Despite the huge proportions of its truly abstract shaped form, the Lyon Housemuseum building nestles almost discreetly into the surrounding suburban splendor. It has been skillfully designed as a fully functioning public museum housing a seminal collection of Australian contemporary art. Yet, within its confines amongst the art, is an exquisitely styled family home for four.
The seamless merging of both spaces is a credit to the architect of the building and the collector Corbett Lyon. Not surprising, when you consider his award-wining architecture and design practice, Lyons, is responsible for reconfiguring the Australian skyline with its most innovative, contemporary architecture projects.
Inspired by the Peggy Guggenheim Museum in Venice, Lyon designed the Housemuseum building from the ground up to house their collection with the primary aim to share it with the general public. Lyon and his wife Yueji's collection amounts to what is an introspection of the Australian cultural epoch of the past three decades, collecting major works by over 40 Australian contemporary artists, including international luminaries Howard Arkley, Patricia Piccinini, Callum Morton, Daniel von Sturmer, Shaun Gladwell and Brook Andrew.
The museum-like capacity enables the abundant space to display their collection of paintings, sculpture, video work and gallery-scale installations. The position is firmly fixed on contemporary Australian life, yet within a city and suburban context. "Whereas previous generations focused their gaze towards the bush, the reality is ninety percent of people live in cities", explained Lyon. "Contemporary art has reframed the context in which Australians view themselves – and consequently, the way the world views Australia."
Seamlessly dispersed amongst the art are the family spaces. From the kitchen, you look onto two large Patricia Piccinini Truck Babies watching a video installation in the family informal living room. The study doubles as an art library, whilst upstairs the formal dining room was designed by Lyon with the very specific purpose to house Howard Arkley's pivotal seventeen panel work Fabricated Rooms. In the rear cube, you'll find a massive black box video installation room, which also doubles as a cinema for the family.
The Lyons open their Housemuseum monthly for small public tours conducted by the delightful Yueji Lyon, who offers an insightful commentary into each of the pieces, and indeed the entire ten year process that it took to bring the Housemuseum to exacting fruition.
Lollie Barr is an Australian freelance journalist and fiction author. She resides in Berlin.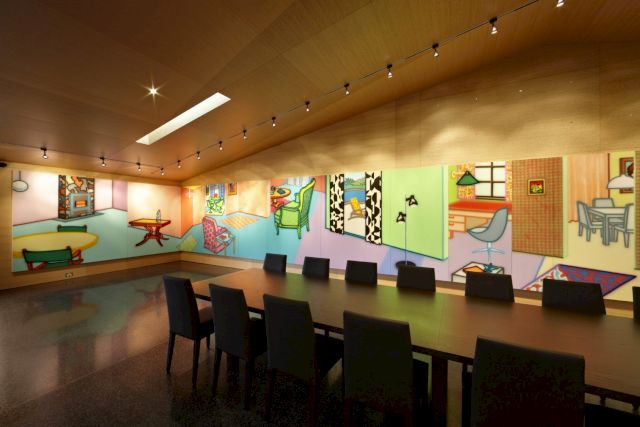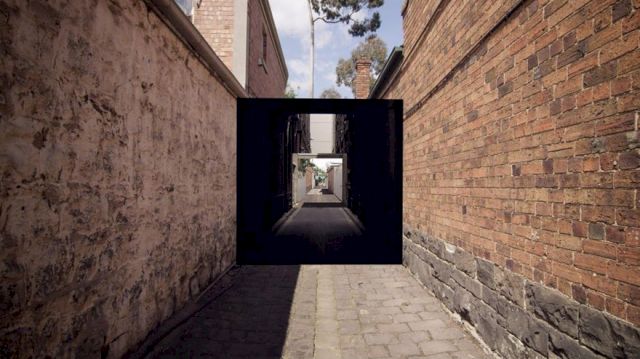 All images courtesy of the Lyon Housemuseum.