Mark Hicks Collection
The collection grown from a curiosity of editions from the streets.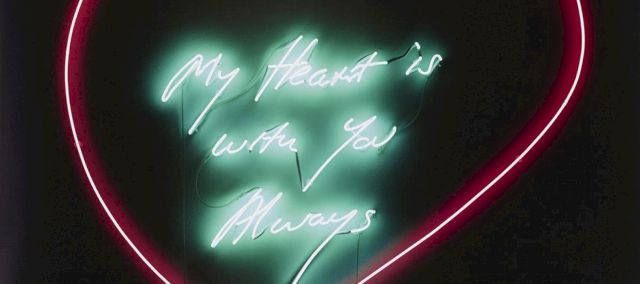 TRACEY EMIN, My Heart is With You Always, 2015
Whilst Mark Hicks may be relatively new on the contemporary collecting scene, his passion for collecting is only getting stronger. Starting just eight years ago, what begun as a collection of editions and multiples from street and urban artists, often based in London, is now developing into a private collection that does not follow the rules. In his first Online Exhibition on IC, Hicks tells us about what first interested him in collecting and why he is slowly moving away from editions and more towards originals.
"My first piece was purchased in 2008 out of curiosity and over the next decade this small curiosity for urban and contemporary art became a collection – or obsession – of over fifty pieces. I started touring the galleries of Soho, when a select group of urban artists emerged and caught my eye, which would then go on to form the basis for my collection. These artists were represented by Lazarides and Elms Lesters, and included Adam Neate, Conor Harrington, Ron English. From then the collection expanded into more blue chip names, with the likes of Damien Hirst and Tracey Emin to name a couple.
In 2017 myself and a good friend realized there wasn't any uncovered wall space in our London flats anymore and although attempts were made to cover the ceilings to the floors, instead we chose to start sharing our art online on hsartinc.com as well as displaying it in galleries that were exhibiting works from artists found in our collections.
Social media is increasingly becoming an avenue for us to share our work and we're finding it is a very good way of connecting with other private collectors. The collection is now very broad, from the lenticular distortions of Adam Neate to the tour de force of political satire, Banksy. I believe the collection has harmony: a distinct balance of both the well known and the undiscovered artist. This broad but intricate repertoire includes, the bold and daring prints of Conor Harrington, Tracey Emin's intimate work and the powerful symmetry of Damien Hirst. I often try to connect directly with artists, most recently getting a commission done by The Connor Brothers.
Like any private collection there is a limit to how many pieces one can physically hold and therefore the collection is now maturing and is now moving from prints and editions into originals. Four years ago the collection was predominantly based around signed limited edition prints, however this has now changed and is moving towards originals, with approximately half of the collection now originals.
I'm also continuing to grow and evolve the collection, and most recently have enrolled in an Art Business course at Chrsitie's which begins this September."