Cyril van Sterkenburg
Amsterdam's Young Collectors Circle series "Art of Collecting" brings to light the personal relationships between a collector and their favorite artwork.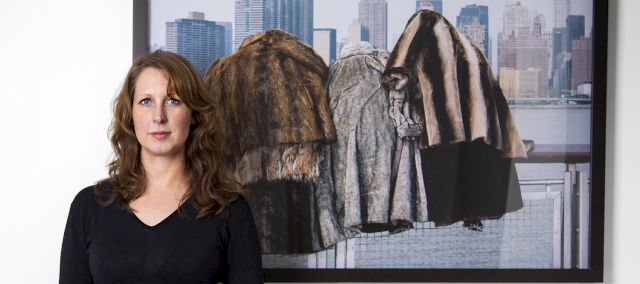 The Artwork
This photograph is titled "Gantry Plaza State Park" (2009) and is by Jaap Scheeren. Jaap and I have often worked together. In 2009 he participated in the "Dutch Seen" exhibition at the City Museum of New York and it was here that he created this work in the days before the opening. We actually happened to be in New York for Vandejong's 20th anniversary celebrations and in 2014 I had my own ten-year anniversary and they let me choose an artwork. I knew straight away I wanted something by Jaap, so we looked through a lot of his work in his Amsterdam studio, but when this piece – still bearing the New York shipping stickers on the packaging – came up, I knew I had found it. A photograph full of memories, and that's what the work is about as well:
"When the Dutch arrived in Manhattan in 1609, the island was still wilderness. In this series I have tried to locate that original environment today. The city's waterfront, the Harlem Meer, Prospect Park, and green rooftops have become the setting to re-enact the people (Henry Hudson and Peter Stuyvesant) and the customs (fur trade and fishing) of New Amsterdam. These photographs bend time, bringing the present to the past and the past to the present." – Jaap Scheeren, "Gantry Plaza State Park" (2009) from the series "It's like a jungle sometimes it makes me wonder".
But the image means more to me. I see friendship. Three old ladies, happy together and enjoying the world around them. It touches me. I've loved it for seven years now and it always makes me smile. The colors are beautiful, and the dangling feet underneath the pile of coats is a bit surreal. Because it's so large, it is a defining focus in my interior, which also makes for a great conversation piece.
I like work that is a little bit surreal, that has something a little odd going on, or that makes you look twice.
CYRIL VAN STERKENBURG
The Collection
For a couple of years I organized "1000 Drawings Amsterdam"– a project with a simple concept: draw anything with anything on A5. We collected the drawings made by professionals and amateurs for charity and the drawings were sold for 10 euros apiece. I have a pretty big collection of small works that pop up all over my home and I'm also a fan of the image agency and platform, Beelddragers. Each year they scout ten talents and exhibit their work. All the works can be bought for 50 euro apiece and every year I buy at least one work, this year it was by Lonneke van der Palen, last year by Maurice van Es and before that Adriana Bogdanova. I also have a piece by Luke Stephenson from "An Incomplete Dictionary of Show Birds", a unique photograph by Jaap Scheeren, Noël Loozen, Otto Kaan and Simon Wald-Lasowski, which they based on the Unseen-campaign image by Lorenzo Vitturi, and a flamingos screen print by Bas Meerman. I like work that is a little bit surreal, that has something a little odd going on, or that makes you look twice. I would also love to collect sculptures. A large garden with a few scattered works would be amazing.
Tips & Tricks
Just do it! The work has to speak to you, but knowing the care or inspiration that went into the creation of a piece, or what the story behind it is, makes it all the more enjoyable and rich. Though I like it best when you can make up your own story for it as well, and when different people see different stories. That way you never get tired of looking at it or talking about it. You don't have to spend thousands or even hundreds of euros straight away: buy an inexpensive piece, preferably directly from the artist. You will see how much fun that is and how happy that work of art can make you.
The "Art of Collecting" series is an initiative of the Young Collectors Circle and Laura Hein.
See more of Nadine van den Bosch's collection in her Online Exhibition on IC.