Nadia & Rajeeb Samdani
The collector-couple dedicated to South Asian art in the heart of Bangladesh.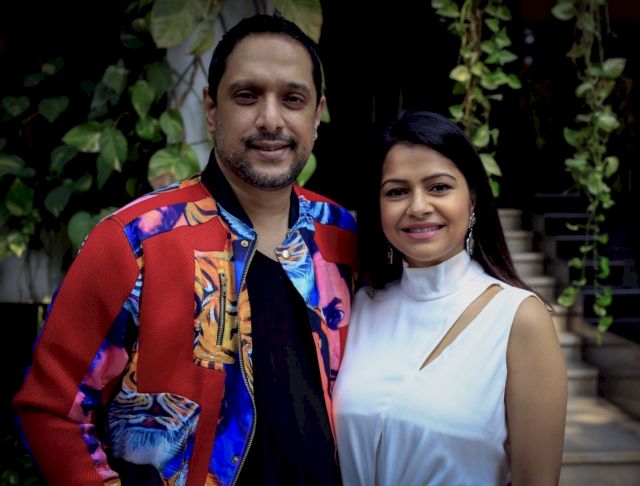 Rajeeb and Nadia Samdani
The Samdani Art Foundation Collection has 2,000 works of modern and contemporary art currently based at Golpo, the Samdani Family residence in Gulshan, Dhaka that can be visited by appointment.
IC
When exactly did you buy your first contemporary artwork? How important is having the title of "collector" to you?
Nadia & Rajeeb Samdani
We bought our first contemporary artwork about 15 years ago. We started our journey as collectors and now our journey expanded into contributing to the creation of contemporary art through the projects and programmes our foundation produces, and the learning that comes with supporting curatorial research.
IC
Your collection is centred around modern and contemporary art from Bangladesh and South Asian artists. Why did you decide to open your private home and collection to public view? What is your mission with the foundation?
Nadia & Rajeeb Samdani
There is no modern or contemporary art museum in Bangladesh. Art enthusiasts rarely have opportunity to see works by South Asian and International artists under one roof with curatorial integrity and rigour. We have opened up our collection to the public view, in the hope that it will help the public as well as artists to learn, study and understand international contemporary art, without needing to have the privileged position of being able to set foot outside of Bangladesh. Our home contains a mix of South Asian and International works, which are rotated every 18 months, so if anyone visits our home once every 2 years, they get to experience new artists works and themes found in the collection hang. We also try to curate our displays thinking about the connection between the works or the connection between the artists.
IC
What has been the most challenging work of art in your collection, either for yourself or the public?
Nadia & Rajeeb Samdani
We have quite a few works that can be considered challenging in terms of space. There are works that need huge space, for example Dominique Gonzalez-Foerster's work M.2062 (Fitzcarraldo), 2014 is a holographic projection video which needs it's own dedicated large room to display. We have Cardiff & Miller's 72 channel audio installation piece Experiment in F# Minor, 2013 that needs an adequate space to enjoy the work. Shazia Sikander's The Singing Suns, 2016 video projection needs at least a seven meter wall space and equally viewing range.
We are building a permanent space for works like these in Srihatta-Samdani Art Centre and Sculpture Park in Sylhet. The art centre will be open for anyone who wants to visit and see our collection – and we're working hard to install and share these works for the first time in Bangladesh.
IC
During the pandemic, have you been frequenting OVRs or is your decision to buy a piece of art, intertwined with physicality?
Nadia & Rajeeb Samdani
We have always been frequenting OVRs as galleries are all over the world and physically it is not possible to be present always. We very much enjoy looking at art physically but that does not always happen.
IC
Tell us briefly about the Dhaka Art Summit that your foundation initiated in 2012. How does this differ to a Biennale or an art fair?
Nadia & Rajeeb Samdani
We started Dhaka Art Summit in 2012 in hopes to provide a platform to Bangladeshi and South Asian artists. Our target was to bring international curators, critics, artists, collectors and museums to come and see the amazing works by the Bangladeshi artists who were undiscovered due to lack of international presence or interest in Bangladesh. There are plenty of biennales and art fairs around the world. So, we had to think about a new format which would attract public and professional audiences alike from all over the world. That is how Dhaka Art Summit was developed. We have mix of several curated exhibitions, along with symposiums, talk programmes, workshops, collective presentations as well as art mediation for the general public to interact with artworks. Although we started the platform for South Asian art, by now DAS has expanded into a platform that looks into the connection between Bengal and rest of the world. We also keep experimenting, breaking and shuffling the format in each edition.
IC
How would you describe the Bangladeshi art market to someone completely new to it?
Nadia & Rajeeb Samdani
Bangladesh does not have any formal art market the way we see in other countries. It is quite tough for the artists to survive by only selling their works. Although there are buyers for traditional and commercial works, the contemporary works do not have any market value here – the market is found in India or abroad. Although we do have Bangladeshi collectors who acquire contemporary art, they are few in number. This also means, the young artists gets the opportunity to experiment with their works without thinking about the selling value as their main sources of income are not from the sales of art.
IC
What would you like to see shift in the Art World post pandemic?
Nadia & Rajeeb Samdani
During the pandemic we realised all the things we had taken for granted, like visiting galleries, museums, artist studios. For us, now we appreciate the art world more and supporting younger struggling artists.
IC
What is a beautiful moment from the Samdani Art Foundation, or your life as a collector that you would like to share with us?
Nadia & Rajeeb Samdani
We have quite a lot of moments we are proud of. But one stands out the most, to see Ayesha Sultana, who won our Samdani Art Award in 2014 and who was virtually unknown to the international art scene at the time, now becoming one of the most sought after artists of South Asia and making her way into museum collections including Tate, QAGOMA, and others.
IC
Which publicly accessible private collections would you recommend visiting?
Nadia & Rajeeb Samdani
We love visiting Pinault's collection at Punta Della Dogana and Palazzo Grassi, and that collection has also been a lender to Dhaka Art Summit. We always enjoy seeing the Kiran Nadar Museum in New Delhi, which also has works by Ayesha Sultana in its collection.