Shalini Passi
Inside the palatial New Delhi home of artist and collector Shalini Passi.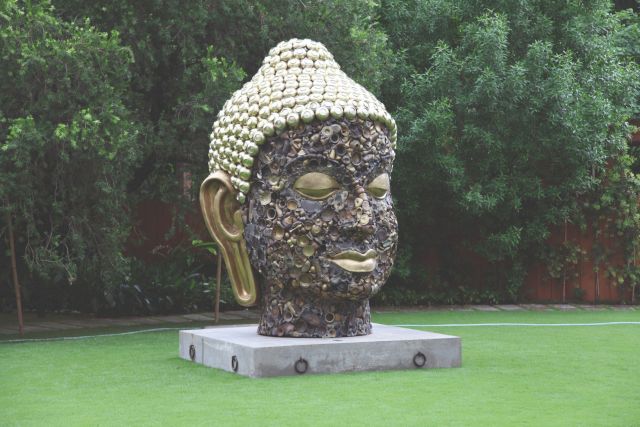 Subodh Gupta, Untitled (Buddha), brass and steel utensils, 2012. Courtesy of Subodh Gupta Studio, Nature Morte and Passi Collection
"The collection is contingent on the context and execution. The works that make a part of my collection are interconnected, like pieces of a jigsaw puzzle. I collect what feels relevant and speaks to me. The collection ranges from minimal contemporary art to maximal. My art and design collection are allies to my personal journey, they empower me and enrich my life."
Shalini Passi is a Delhi-based art collector, artist, and philanthropist, who sits on the Advisory Board of Khoj Studios since 2012 and serves as a longstanding Patron of the Kochi-Muziris Biennale. Her collection includes some of the most coveted names in contemporary art, including Bharti Kher, Anita Dube, Sheba Chhachhi, Zarina Hashmi, and Atul Dodiya, alongside significant international artists such as Jeff Koons and Damien Hirst and Indian modernist masters, such as M.F. Husain, Manjit Bawa, and Ram Kumar. Shalini's passion for art and design is evident in her vast collection of furniture, tapestries, and rare antiques, which are juxtaposed with cutting-edge contemporary design, including important pieces by Ron Arad, Vladimir Kagan, and Herve Van Der Straeten. Located within Shalini's Delhi home, which has been featured in prominent publications such as Wallpaper*, Architectural Digest, and Larry's List, the collection evokes and celebrates a powerful individual narrative that speaks of Shalini's connection with each piece, each history, and each artist. As a patron and collector, Shalini actively supports emerging artists, and fosters arts education through the Foundation's year-round programming. She is regularly invited to speak prominent art and design events, and most recently gave a talk at India Art Fair 2019 and moderated a panel discussion at India Design ID 2019.
For more information visist the Shalini Passi Art Foundation website