The Needle and the Larynx
We are proud to present "The Needle and the Larynx" (2016) by Marianna Simnett, as our 13th selection for AT HOME WITH IC.
MARIANNA SIMNETT, The Needle and the Larynx, 2016 (still). Courtesy the artist and Zabludowicz Collection
We presented from the Zabludowicz Collection, "The Needle and the Larynx" by Marianna Simnett, as our 13th selection for AT HOME WITH IC. This is a lockdown series focused on video works from IC collections addressing 'crisis'.
Elizabeth Neilson, Director of the collection expressed to us:
"Marianna's works deep dive you into a fairy tale reality of mythic proportions. Her female protagonists open their bodies to the insertion of symbolic and hidden powers. Famous for her ability to viscerally disrupt the passive viewing experience and push the body to its limits, her work is even more urgent today than it was when I first encountered it over 6 years ago. As a collection we have tried to keep up with her fast paced and uncompromising work. Take a breath and prepare to be destabilised; watching her work will leave you with no doubt that she is an uncompromising human, author, and a serious voice to be reckoned with in art history."
Several works of Simnett's are part of the Zabludowicz Collection, and there was a solo show with the artist in 2018. In collaboration with the collection, IC screened The Needle and the Larynx for two weeks.
Set against a fable of a young girl's revenge on a surgeon, The Needle and the Larynx (2016) shows across one excruciatingly long, slow motion shot, the artist receiving an injection of Botox into her larynx to lower the pitch of her voice. This procedure, usually undertaken by men to attain a deeper voice post puberty, captures the artist's own experience as a patient whilst exposing repressive systems of violence imposed upon our bodies.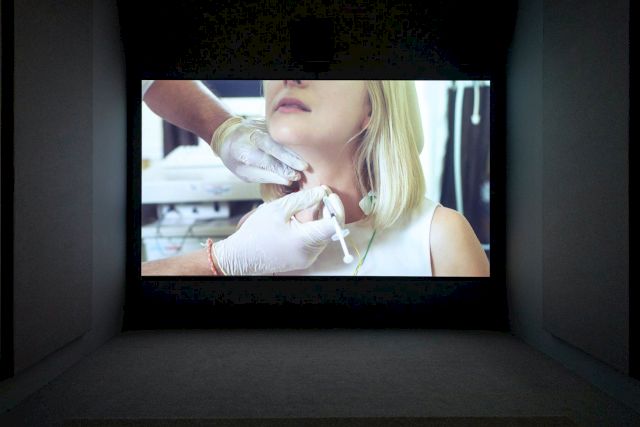 Marianna Simnett has gained global recognition for her visceral works, which include film, installation, performance, sculpture, music and drawing. Simnett is showing her iconic work Faint with Light (2016) in the group exhibition A Fire in My Belly at Julia Stoschek Collection, Berlin. She has exhibited in major museum internationally including those at Kunsthalle Zürich (2019), the New Museum, New York (2018) and Museum für Moderne Kunst, Frankfurt (2018).
This year she will open a solo exhibition CREATURE at City Gallery Wellington, and is part of group exhibitions at the British Art Show 9, Castello di Rivoli, Turin and The Drawing Room, London.
Watch a conversation between Simnett and Maitreyi Maheshwari, Curator of her solo exhibition at Zabludowicz Collection.
Read an extract from Simnett's publication (below), printed in an edition of 500.