Donna Huanca – Obsidian Ladder
Skin painting artist Donna Huanca participates in the current MAF project series, exploring gender and sexuality in contemporary life.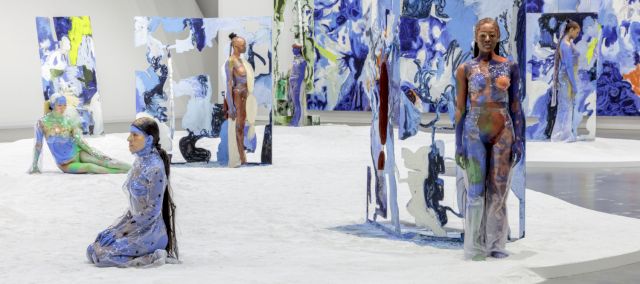 DONNA HUANCA, Obsidian Ladder, 2019 (installation view). Courtesy the artist, Marciano Art Foundation, Los Angeles and Peres Projects, Berlin. Photo: Joshua White/JWPictures.com
"Obsidian Ladder" is Berlin-based, Bolivian American artist Donna Huanca's first major institutional exhibition in the United States. This is accompanied by public programming featuring artists, activists and scholars discussing topics related to the performance of gender and sexuality in contemporary life.
Inviting contemporary artists, the exhibition is another project series of the Marciano Art Foundation (MAF), presented alongside collection works acquired by brothers Paul and Maurice. From June 28 through December 1, 2019, the site-specific installation developed by Donna Huanca for the MAF's huge Theatre Gallery space reveals a new topography of triggered senses, combining sound, scent and live performance. The elements are experienced together against a constellation of carved steel sculptures and skin paintings, along with performances by models every Saturday throughout the duration of the exhibition.As for the accompanying program at the MAF, events are taking place on select Saturdays over the course of the exhibition.
This includes presentations and talks by artists Donna Huanca, Faith Wilding, Barbara T. Smith, Cheri Gaulke, scholar Gloria Orenstein, curator Cecilia Fajardo-Hill, Sean/MilanTM Garcon of REACH LA, and MAF Senior Creative Director Olivia Marciano. The upcoming event is on August 10 at 2:00 p.m with Faith Wilding on 'Embodiment, Ritual, and Cyberfeminism'.
As a further initiative, featured with the exhibition are a series of limited-edition artworks and merchandise. The items include a uniquely created perfume designed after the scent in the exhibition and individually packaged by the artist, uniquely painted prints and a versatile unisex garment based on her paintings. All sales proceeds are to be donated to three Los Angeles based nonprofits – the Trans Wellness Center, REACH LA and the East Los Angeles Women's Center. To learn more about the nonprofits, watch this recording of the first supporting discussion that was held at the MAF on July 20, 2019.
In this Collection Feature we present works from Donna Huanca, Obsidian Ladder at The Marciano Art Foundation.