The Broad Collection
Walking down the Grand Avenue in Los Angeles, right by the Museum of Contemporary Art (MOCA), you can't help but be struck by the angular construction of The Broad and its bright white honeycomb exterior.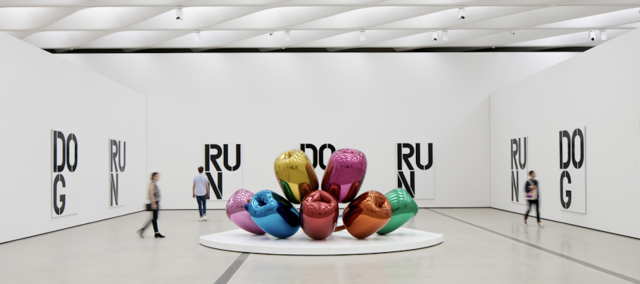 Installation of works by Christopher Wool and Jeff Koons in The Broad's third-floor galleries. Courtesy The Broad and Diller Scofidio + Renfro. Photo: Bruce Damonte
Opened in 2015, and designed by the renowned architecture firm Diller Scofidio + Renfro, the museum is home to artworks from The Broad Collection. The museum founders, Eli and Edythe Broad, have been collecting postwar and contemporary art for over five decades and their collection is representative of some of the most important American and international artists from that period.
Spanning over 35 000 square meters and situated on two expansive floors, the museum's inaugural installation has been carefully selected and curated – not an easy task given the diversity and breadth of the works housed in the collection (which are all stored and archived away securely onsite). Upon entering the lobby, visitors are greeted on the first floor by the Infinity Mirrored Room, the dazzling installation by Japanese artist Yayoi Kusama, which is also a very popular Instagram favorite among visitors. Moving through the first floor exhibition space, Takashi Murakami's massive eighty-two-foot-long painting, In the Land of the Dead, Stepping on the Tail of a Rainbow, is an intense expression of sentiment and emotion. Illustrated in Murakami's hyper-anime style, the painting was inspired by the 2011 Tōhoku earthquake and subsequent tsunami in Japan.
Taking the long escalator up to the third floor, popular American artists are well accounted for, including the likes of Roy Lichtenstein, Jean‐Michel Basquiat, Chris Wool, and Jeff Koons. These obvious crowd pleasers are a strong aesthetic draw card for audiences well versed in popular contemporary culture. That's not to say that The Broad is a one-liner. Popular works act as frame for perhaps less accessible, but equally important artists. Artists whose concerns are more cerebral and conceptual, including John Baldessari, Barbra Kruger, and Joseph Beuys.
In addition to housing the collection, the museum acts as the headquarters to The Broad Art Foundation. The foundation runs an art-lending program, which generously shares the experience of the collection with a worldwide network of museums and institutions. Recently the collection acquired Jordan Wolfson's Untitled (Female Figure), a surreal animatronic-dancing robot that proved a showstopper when it was premiered at David Zwirner gallery in Manhattan in late 2014. If this acquisition is anything to go by, we can be sure that The Broad will continue to be an exciting and engaging experience for locals and L.A. visitors alike.
Tomasz Kobialka is a Polish-born, Australian artist and a contributing writer to Sleek Magazine.