The Wig Museum
LA's MAF was inaugurated in 2017 with a solo show of Jim Shaw, curated by Philipp Kaiser.
Marciano Art Foundation Exterior. Courtesy The Marciano Art Foundation. Photo: Julian Calero
To inaugurate The Marciano Art Foundation (MAF), LA based and loved artist Jim Shaw was invited for a site specific, solo exhibition which appropriately created a theatrical effect.
Residing inside a repurposed 1960s Scottish Rite Masonic Temple, Los Angeles gained a mighty new art space, The MAF. Founded by the brothers Maurice and Paul Marciano who did so with the label GUESS?, their pleasure in sharing what they love in life, can also be applied here. Just as they bought their favourite LA wine store (as loyal, twenty-plus year customers) and expanding it later to Beverly Hills with wine tasting and dining, their concept with The MAF was to create public access to their growing collection of art. The 5000 square meter space was bought in 2013 and opened in 2017, with all exhibitions and programs offered free of charge.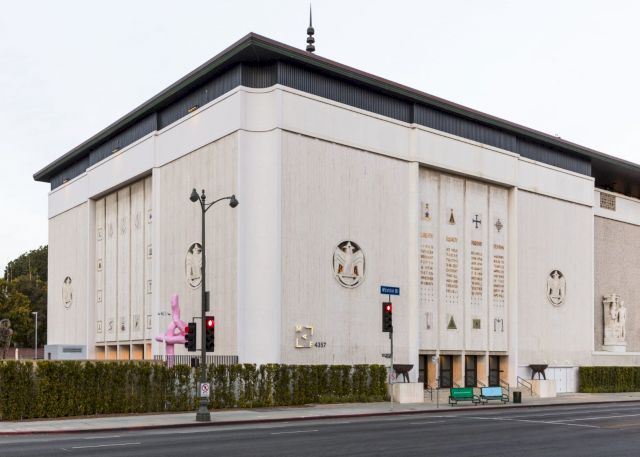 The narrative which instigated the creation of works in The Wig Museum presented itself amidst the conversion work of the vast Temple. Furniture, stage sets, robes, backdrops, costumes, wigs and regalia were discovered by the MAF staff, left behind as if documentation of the Freemasons – the building's former owners, a worldwide fraternal order dating back to the eighteenth century.
Consistent with Jim Shaw's iconic practice of appropriating found images and objects, the artist was encouraged to consider the enigmatic artefacts found within the Temple, including the Freemasons' monumental, hand-painted theatrical backdrops. Shaw spent time in the building during its renovations, sketching, taking photographs, and examining the theatrical backdrops, and eventually selected five backdrops to include in the show, thereby conflating the rich history of the building and the practices that took place there with the current world and contemporary art.
The exhibition highlighted Jim Shaw's diverse interests and sources of inspiration. In the artists words, "I'm creating a sort of [Hieronymus] Bosch-like hell within the world we live in – the shopping mall hell that is our contemporary life."
In this Online Exhibition we present works from The Wig Museum at The Marciano Art Foundation that were on display May 25 – December 23, 2017.